Bob Kramer makes two custom knife designs, the Euro and the Meiji.
Euro Design
Euro Design
Bob's 'old school meets new school' design is balanced perfectly with deep blades and comfortable handles. The handle is designed to be comfortable for long sessions in the kitchen; it's a bit larger, with more heft and knuckle clearance. The heel is rounded and polished for comfort.  These are the most common European inspired blades that he makes: paring, utility, steak, boning, chef, slicer, breaker, bread knife and sauté fork.
Meiji Design
Kramer Meiji Design
These knives are designed to have the ease of a Western knife with the beauty of Japanese aesthetic. They have a double taper grind and are symmetrical. From the traditional Japanese D-shaped handle, the distinct finger ridge can be customized for right and left hand users. The most common Japanese inspired blades that Bob makes are Santoku, Nikiri, Yanagi and Usuba.

Straight Carbon Steel
Straight Carbon Steel
The steel is the heart of the knife. Bob builds his knives with a simple, high quality, 52100 grade carbon steel, which is comprised of iron, carbon, and a pinch of chromium.
The magic happens when the right steel combines with the right heat treatment. Bob creates an extremely fine grain structure and with a meticulous heat treatment that allows for the ultimate edge: maximum sharpness, edge retention, ease of sharpening; and thus, the best performance. His heat treatment is a seven step process that takes over six hours to complete for each blade.
Over time, the blade will develop a distinct blue-gray patina, giving each knife a unique, one-of-a-kind character and timeless beauty.

Damascus Steel
Damascus Steel
Damascus, also known as 'pattern welded steel', is the result of combining at least two different types of steel that harden and temper in the same range to achieve a desired aesthetic. Bob uses his creativity to produce a unique art piece that is also a high performance tool, so his Damascus knives tend to represent more of his soul. Click here to learn more about my process.
As you can imagine, this process is very labor and material intensive. In some cases, up to 70% of the material is lost while achieving a desired pattern. This is why the Damascus knives are much more expensive than the Straight Carbon knives.

Damascus vs. Straight Carbon
The shape, balance, and design of Bob's knives combine to give you the best performing tool possible. Both Damascus and straight carbon steel sharpen exactly the same way; get equally sharp and Bob believes they cut the same.
The difference though is in how they wear. Since the Damascus blades consist of different types of steel, each layer of steel will wear at a different rate. This causes a very fine micro-serration, which can help to keep the edge sharp for a longer period of time.
Wood Handles
Bob's collected various pieces of wood over the years.
Wood Handles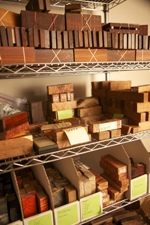 Bob's knife handles are made of real wood. Cocobolo has been an industry standard for over 200 years in high-end cutlery and is his first choice of wood because it is very hard, naturally high in oils, and has an interwoven grain, giving it strength and stability. Some of the most common woods that I use are Amboyna Burl, Blackwood, Box Elder, Curly Koa, Ebony, Ironwood, Dyed Big Leaf Maple, Redwood, Snakewood and Thuya Burl.
Mosaic Brass Pin
The mosaic pin is a powerful symbol that represents peace and culture.
Mosaic Brass Pin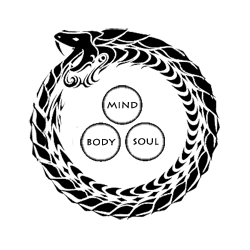 Each of the knives Bob makes carry a decorative pin or crest. This design has been on his knives almost from the very beginning. Bob wanted to mark the knife with something that would stay with the knife for its life; a symbol which was more than a logo. Mosaic pins have been used for quite a while so this seemed to be the right place for the symbol. Knowing that the basic form he wanted to work with was a circle, he went directly to Japanese crests and to three circles in a circle. The circle is an ancient and sacred form that represents the moon, sun, the wheel and life itself. The number three is a magic number in many cultures and represents all kinds of things such as nuclear family, the tripod, the trinity and the mind–body–soul; it also happens to play a big role in his heat treatment.
Bob's knives are designed from a combination of restaurant experience, knife-making experience, and the relentless pursuit of excellence. Inspired by traditional German and Japanese carbon tool blades, his goal is to create the ultimate cutting experience. Bob's custom knives are comfortable for long periods of cutting, have more heft than the common kitchen knife, perfectly balanced, very sharp and easy to re-sharpen.
"I have a theory that people's lives are about reduction—that the best things in life are like reduced sauces, concentrated wines. My life has been this pursuit to understand what things go into a great knife. This is my reduction." – Bob Kramer
"Master what you do, and you will learn to love it."