Caring for your Carbon Blades
It's very important to wash and hand-dry thoroughly after each use. Carbon has a tendency to react with acid, so it's good practice to wipe the blade with a towel in between foods. As the steel is exposed to different elements, it will begin naturally oxidize, or patina. Overtime, this patina will act as a protective layer against rusting and discoloration.

Remove Rust, Water Stains or Unwanted Patina
All you need is our Home Polish Kit.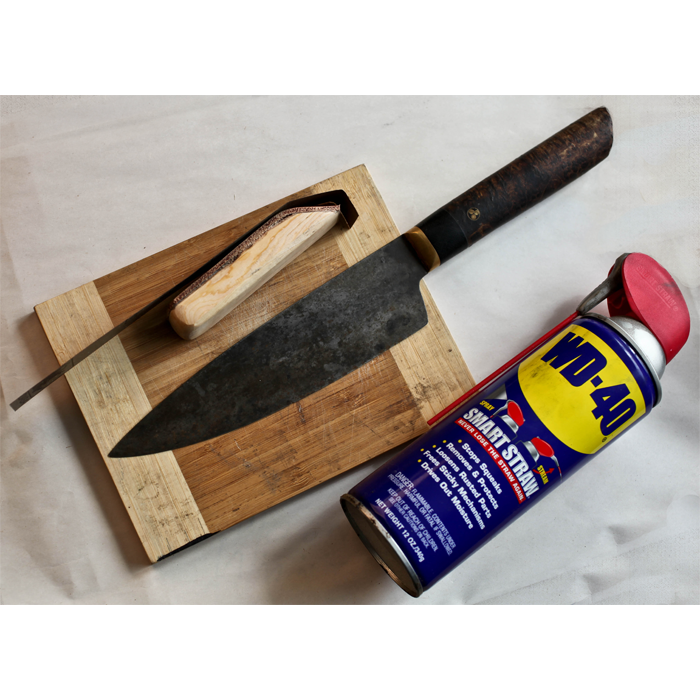 Apply a small quantity of WD-40 on the blade.
Wrap a low grit of sand paper around the rubbing block,
use your pointer finger to secure the paper.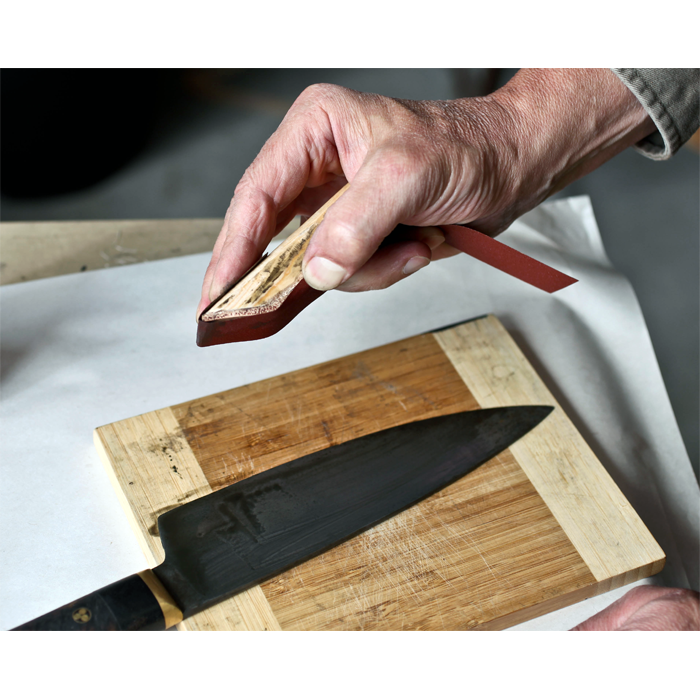 Slowly rub lengthwise, using control and medium pressure.
Once you've removed rust, water stains or unwanted patina,
then you can move to a higher grit sand paper.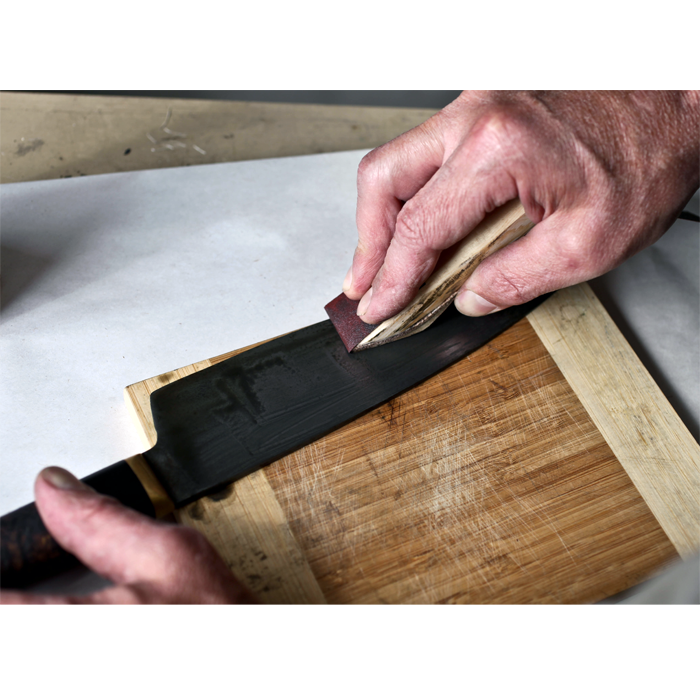 Repeat the same process, wiping the blade periodically to check your progress.
Rinse and hand-dry when finished.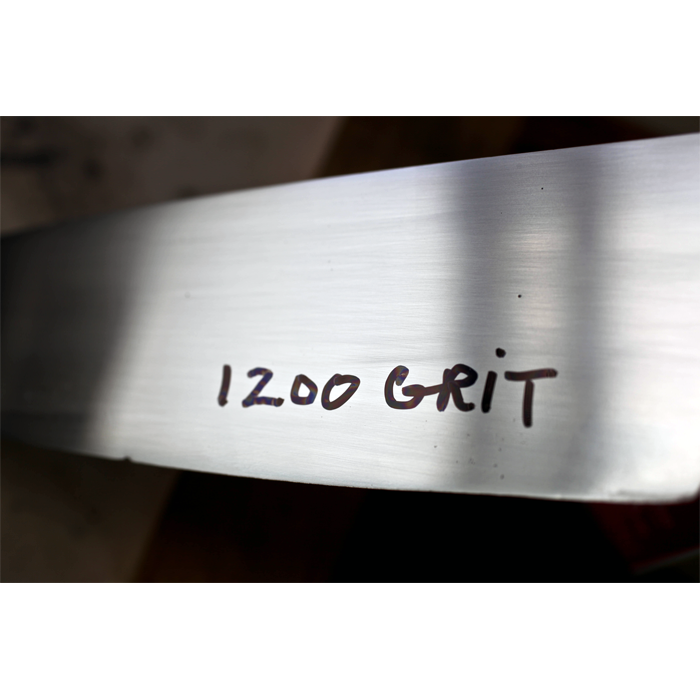 For normal polish, end with the 1200 grit.
You can keep going to 2500 grit for a mirror polish.
Click here to purchase the Home Polish Kit.

Or, Sur La Table sells a Carbon Care Kit for $29.95 that includes a rubberized abrasive to remove stains and rust from your blade. Purchase from Sur La Table's website.
How to: Force a Patina

Supplies: vinegar (any kind) and a paper towel.

With the paper towel, rub the vinegar evenly across the blade on each side. Let the vinegar sit for a few minutes (about 5 mins) then rinse off the vinegar and hand-dry thoroughly. Reapply as many times as needed to generate an even-ish color.

Note: Do not let the vinegar dry on the knife. Rinse it off after a few minutes.

Note: If your blade already has a patina in some areas, those areas will be 'farther along' in the oxidation reaction (color will be darker).
Wood Handles
To keep your wood handle in good shape for many years and prevent dryness or cracking, I recommend Tried and True Danish Oil. Apply a small quantity with a paper towel, and let it soak into the wood for 20 minutes before wiping off the excess. Allow to dry completely before storing. Order from our shop.
Washing & Storage
Gently wash with soap and thoroughly dry your knife after each use. No Dishwasher--it will harm the blade and cause the handle to crack. After washing, keep your knife in a universal block, on a magnetic bar, or in a plastic edge guard. Check out our recommended products.
Maintenance
Routine maintenance is essential for a high efficiency knife. Sharpening is simple, fun and the knowledge is free. Read our sharpening page for techniques and step-by-step videos.
---
Our Services
Over twenty years ago I opened a small business sharpening knives, which eventually led me into the fantastic world of Bladesmithing. Today, I've made the decision to stop sharpening knives—as much as I would like to offer this service, I no longer have enough time. I want to thank my supportive client base for participating in my pursuit to understand culinary knives.

Owners of Custom Kramers

Sharpening & reconditioning services are available exclusively for owners of custom Kramer knives. Contact us for shipping instructions.
Professional Sharpeners
Seattle Knife Sharpening


Bob Tate is a good friend who's been learning to sharpen with me for several years. He was a chef for 20 years, is passionate about food, wine, and of course, knives. Visit his website or call (206) 465-6801.

Zen Blades Mobile Knife Sharpening

Woody worked with me to learn power sharpening, and is also a teacher at Oregon Culinary Institute. Set up in the Portland area, Woody has a truck that I wish I'd had when I was sharpening. Visit his website or call (503) 816-3913.